New construction Novi Sad - Residential building at Jovana Ristica Street, Novi Sad
PURCHASE YOUR APARTMENT WITHOUT COMMISSION FEES, DIRECTLY FROM THE INVESTOR
Quality and safe shopping as a priority
If you are looking for an apartment in Novi Sad that will provide you with quality, comfort, and security while respecting deadlines, then the new residential complex in Jovana Ristica Street is the place where you will find your home. Investor "Milenkovic gradnja" specializes in providing services in the field of investment, construction, and sale of residential and business space and has existed and successfully operated on the territory of Novi Sad for more than 15 years. During that time, they are proud to leave behind more than 100 high-quality apartments in energy-efficient buildings.
6 apartments are available.
650 m²
residential surface
underfloor heating / heat pumps
High-quality apartments for a comfortable start of a new life
If you have dreamed a lot about your new home, it's time to start living your dreams! The new residential building at 16 Jovana Ristica Street can provide you with everything for a comfortable, peaceful, and quality life, and even more. This new, modern building of high quality is equipped according to modern standards and meets all energy efficiency requirements. The complex has two buildings. In the first building, two and a half bedroom apartments are available, while in the second building, individuals and families can find their home in one and a half bedroom and three and a half bedroom apartments. The building has a fire alarm and a ramp for people with disabilities. You do not need to worry about breakdowns and repairs because the investor gives a two-year warranty with free repairs.
*depending on the dynamics of payment
*with the possibility of VAT refund for buyers of the first apartment
Construction completion date: May 2022. godine.
Free parking
With the purchase of the apartment, the owners get the right to use completely free parking.
Quality and additional equipment
Due to the quality and details that are invested in each element, the interest in this residential building is huge. All apartments are made of the highest quality materials and have additional equipment:
Intercom
Built-in toilets
Italian ceramics
Floor heating
Six-chamber PVC joinery
Heat pumps
10 m facade styrofoam
Reinforced concrete structure
Thermal air conditioning block
Your corner of peace near the city center
Away from the city noise, enjoy a quiet area that is well connected to all parts of the city. Just a 10-minute drive to the center of Novi Sad. Near the building, there are numerous markets, a kindergarten, and everything you need for peaceful family life.
Bus stop 6, 7A, 7B - 5 minutes walk
Elementary school "Jozef Atila" - two minutes by car, 10 minutes walk
Kindergarten "Zemlja cuda" - 3 minutes by car, 20 minutes walk
Birthday Playroom - 3 minutes by car, 25 minutes walk
Univerexport market
APARTMENTS OFFER
54.41 m²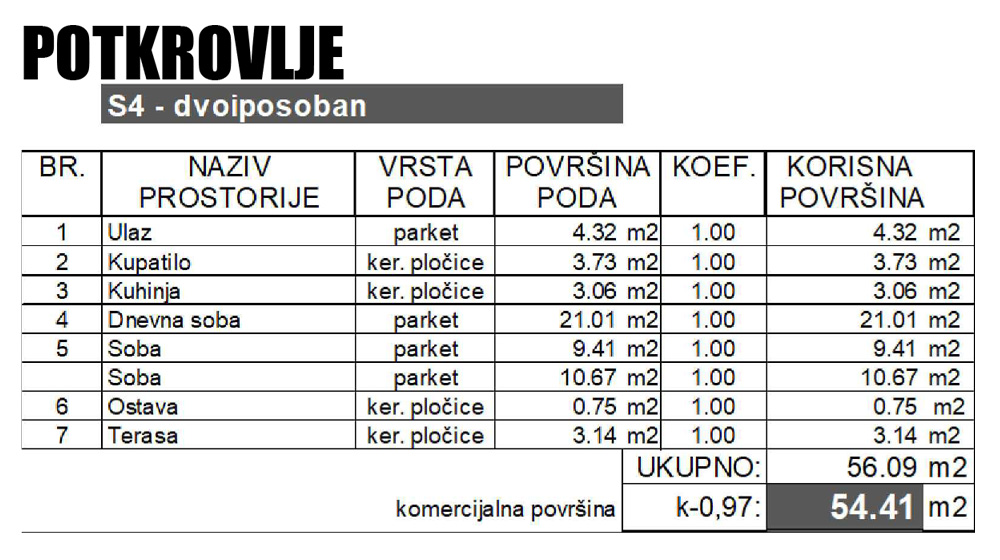 I want to be contacted by a sales agent