BW Quartet 3 - Belgrade Waterfront - New construction - Savski venac
ELEGANT APARTMENTS WITH GOOD VIBRATIONS
BW Quartet 3 is a free-standing residential complex of medium height, located in the fourth row of buildings from the bank of the Sava, right across from Sava Park. The new eight-story building includes 290 housing units of various sizes (with one, one and a half, two, three, and four bedrooms, as well as a penthouse with four bedrooms) and retail stores on the ground floor. The base of the building is in the shape of the Cyrillic letter "P", with a longer side overlooking the Sava Park along the new boulevard and a common courtyard in the direction of Savska Street, which provides residents with views of lush greenery and fresh air throughout the year.

security

video surveillance

landscaped yard
EVERYTHING YOU NEED IS WITHIN REACH OF YOUR HANDS
The key architectural feature of the building is the articulation of the facade, which breaks up the masses into blocks, creating the impression of diversity and coherence of a typical city street. Thanks to its unique location and orientation, surrounded by other residential facilities and arranged pedestrian passages, BW Quartet 3 offers an unobstructed view of the Sava Park to the west, as well as a spacious common courtyard to the east. The apartments are designed so that the natural light is used to the maximum, and the privileged position of the building along the park allows an unobstructed view of the landscaped greenery and the river, as well as the old town in the background.
Whether it is buying for their own needs, investing, or renting, individuals, couples and families have at their disposal 290 attractive apartments that meet the highest standards of living and working in the modern metropolis. The one- and two-bedroom units are an ideal choice for individuals and young couples, as well as for investors looking for a secure return on investment. For families with children and those in need of more living space, BW Quartet 3 offers spacious three- and four-bedroom apartments, as well as four-bedroom penthouse units on the top, recessed floor.
Parking
307 parking spaces
SEE OUR APARTMENT OFFER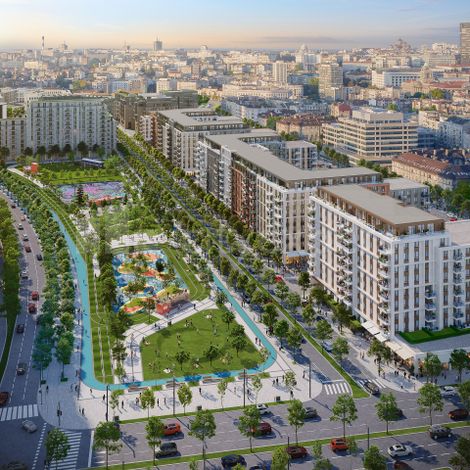 Installment from: 1850 €
Sale
•
Apartment
•
Belgrade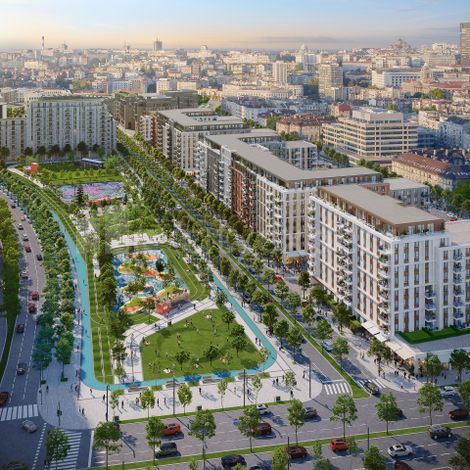 Installment from: 1307 €
Sale
•
Apartment
•
Belgrade
THE MOST INSPIRATIVE ENVIRONMENT
Tenants of the BW Quartet building will enjoy security and direct access to the spacious and well-kept common yard with a children's playground and relaxation area. A special convenience for families with younger children is a kindergarten of 455 square meters with a separate entrance and a fenced children's playground, which is located in the neighboring residential building. Other facilities in the building include cafes, restaurants, retail and service activities to meet daily needs, an entrance lobby with reception, mailboxes, and security, an underground garage on two levels with 343 parking spaces, storage rooms, and a garbage disposal system for all housing units.
Sava Park 1 min a walk
Palata pravde 2 min walk
Sava Promenade 2 min walk
Hotel W Belgrade 4 min a walk
Belgrade Tower 2 min a walk
Galerija shopping mall 2 min walk
Savski trg 4 minutes on foot
Savamala district 7 minutes walk
Slavija Square 7 min by car
Novi Beograd 5 min by car
Nikola Tesla Airport 15 min by car
FLAWLESS DETAILS
Each finished apartment in the BW Quartet complex has a warm palette of natural materials, which complements the clean, modern architecture of the building. Multi-layer wood parquet is found in all living rooms, dining rooms, bedrooms, and hallways, and bathrooms and kitchens are equipped with tiles, hinges, and handles from renowned manufacturers. The bathrooms also contain high-quality sanitary equipment, built-in showers with glass walls, and acrylic bathtubs in the secondary bathrooms of apartments with more than one bedroom. All apartments are equipped with central district heating, as well as multi-split systems with indoor units for the living room and each bedroom and one or more outdoor units on the balcony.
BW Quartet integrates functionality, quality, and style into all aspects of modern city living. Elegant spaces, quality components, and materials from renowned manufacturers are standard details that guarantee exclusivity and true sophistication. Ceilings 2.8 m high further enhance the feeling of spaciousness in living rooms and bedrooms, while terraces in each apartment, with floor-to-ceiling windows, frame exceptional views of the Sava Park, river, and old town, as well as the Belgrade Tower from some housing units.