Top 5 mountains in Serbia that are increasingly popular
30.08.2022
Kosmaj / Interesting
Kopaonik, Zlatibor, Tara, and Stara Planina are some of the most famous mountains for vacations in Serbia that everyone has heard of. Whether it's about the rich tourist offer, natural beauty, rich flora, and fauna, or because of the groomed ski slopes, some mountains follow these mountains with their beauty and, for some reason, are in the background. In this text, you will learn about the mountains we think should be visited and why you should have their names in your travel planner.
Golija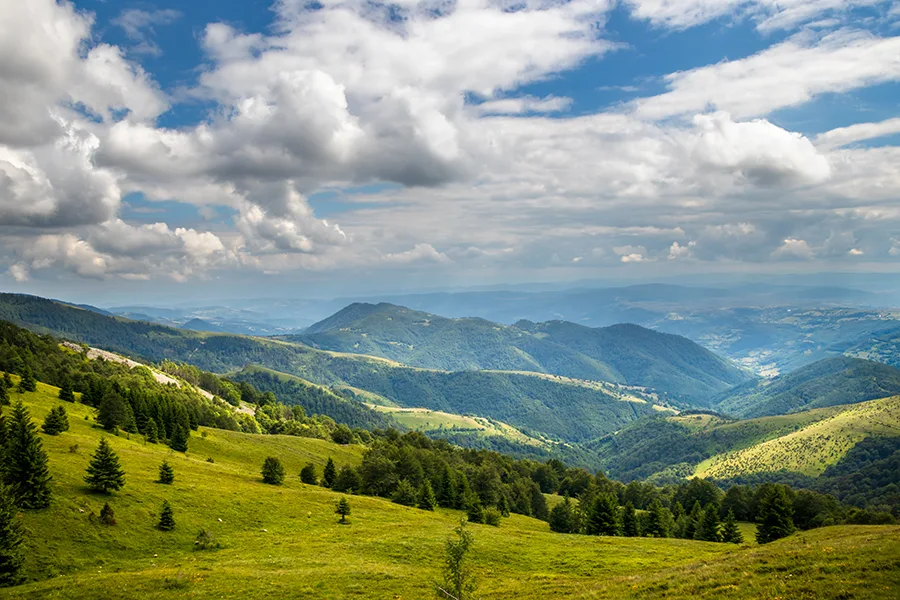 Golija is a mountain in southwestern Serbia, located 32 kilometers north of Novi Pazar. It stretches for 32 kilometers in shape similar to the Latin letter S. Nature Park "Golija" was declared in 2001 and was entrusted to the management of JP "Srbijašume." In October of the same year, Golija was proclaimed by the UNESCO Commission as a "Golija-Studenica" Biosphere Reserve. Jankov Kamen (1,833 m) and Crni Vrh (1,795 m) are two dominant peaks of Golija, from which you can enjoy a view of the surrounding mountains, dense forest, and untamed nature.
Golija is considered one of the most forested mountains, adorned with extensive forest covers, mainly beech forests. There are meadows and pastures on the southern slopes, beech forests on the northern and eastern parts, and spruce is present above 1,700 meters.
Golija's slopes are highly suitable for skiing, which is why in recent years, it has been equipped with ski slopes. Also, Golija is one of the mountains with the most snow days in Serbia, and the snow, whose average height reaches 105 cm, remains for almost five months. Golija is the center of endemic and relict species, and the unique symbol of this mountain is the woody maple. In addition, Golija is rich in water and medicinal herbs and is home to more than 100 different species of birds and mammals. Due to the wind currents, Golija is a good place for paragliders, and it belongs to the group of more demanding mountains, which is why lovers of active vacations love it. Golija is home to numerous monasteries, the most important of which is Studenica, on the UNESCO World Heritage List.
Rudnik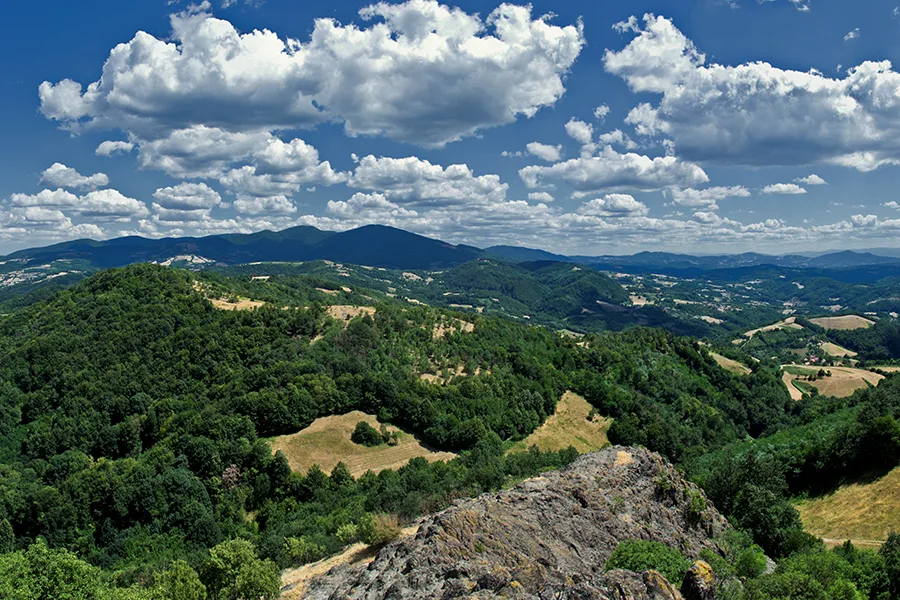 Mount Rudnik is located near Gornji Milanovac, about 100 kilometers from Belgrade. Sumadija dominated its width and got its name because of the great wealth of lead and zinc ores. Cvijicev peak (1.132 m) is the highest peak of Rudnik and the whole of Sumadija, so it is often called "the roof of Sumadija." The mountain is characterized by extensive forests, plentiful sunshine throughout the year, an unpolluted natural environment, and airflow and ionization, which is why it was declared an air spa in 1922. The mine is rich in forests dominated by beech trees, but there are also oaks, maples, and spruces. This mountain is also a hub between the Zapadna, Velika Morava, and Kolubara watersheds. There are also smaller rivers on the mountain, which join the larger one at the foot. Between Javor and Cvijić Vrh, there is a nature reserve and a natural asset - Veliki Šturac- a genuine asset of exceptional importance and covers eight hectares. On the mountain, there are also traces of mining dating back to the Roman period, and the first Serbian dinar with the Cyrillic alphabet was minted at the Rudnik - the dinar of King Dragutin. The remains of Turkish fortresses and towns were also built in the Serbian defense of Rudnik, where Jerina the Cursed (Brankovic) died. Ostrovica, a long-extinguished volcano that dominates this part of Sumadija with its position and shape, is also located on Rudnik. It looks like a sharp cup composed of eruptive volcanic rocks.
Suva planina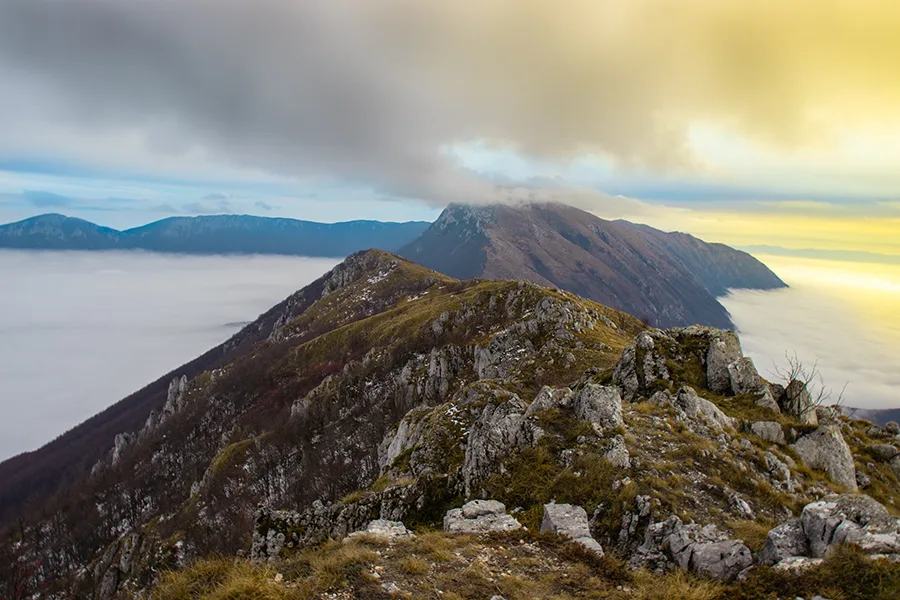 Suva Planina, 45 kilometers long and 15 kilometers wide, is located in southeastern Serbia, 17 kilometers from Niš. It gets its name because of the limestone rocks, which are mainly composed and characterized by low permeability and lack of water. The highest peak is Trem, which is 1.810 meters above sea level.
Suva Planina is a natural reserve that covers more than 31.000 hectares and is a true treasure of the forest ecosystem. It has 1,261 species of plants, of which about 120 species are endemic. The mountain is also home to about 60 species of lichens, 86 species of butterflies and 139 species of birds. Natali's and Serbian Ramonda are rare species that inhabit this mountain, and snakes are the most common reptiles. Like Golija, Suva Planina is also suitable for paragliding, and about ten years ago, the world championship in that sport was held there. Scientist Jovan Cvijic called Suva Planina the "Alps in the south of Serbia".
Due to its higher altitude than the surrounding cauldrons and mountains, it is separated and highlighted from other entities, making it easily visible from a long distance. Koritnjak Hill is the beginning of Suva Planina, which leads to a meadow suitable for paragliders. Near the trail is the abandoned village of Koritnjak, a source of healing water and a fountain built by King Aleksandar Karadjordjevic.
Maljen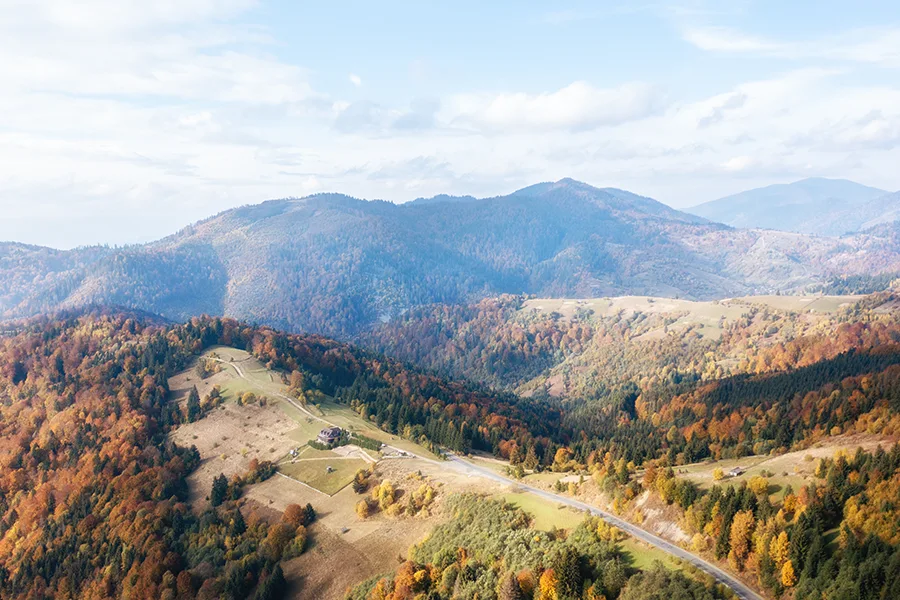 Maljen Mountain, 15 kilometers long, is located 30 kilometers south of Valjevo, about 120 kilometers from Belgrade, and is part of the Valjevo mountains. According to its composition, Maljen is made of limestone, the highest peak of which is Kraljev Sto (1.104 m), while the most famous is Crni Vrh (1.098 m), which is located near the most famous settlement of Divcibare. Well-maintained paths and roads connect the mountain tops, and the tops are decorated with wooden viewpoints, from which you can enjoy a view of the surrounding mountains and the entire Podrinje.
Maljen is rich in water, streams, and canyons with cliffs, forests, meadows, and spacious pastures. The most famous place, plateau, and ski center on Maljen is Divcibare, located about 980 meters above sea level. The Manastirica River rises under the highest peak, the King's Table, and creates the Skakalo waterfall, about 30 meters high, the sixth largest in Serbia. The waterfall is known for its inaccessible terrain, which presents a tremendous challenge for adventurers. In addition, Divcibare abounds with springs, the most famous of which is Zujan.
Kosmaj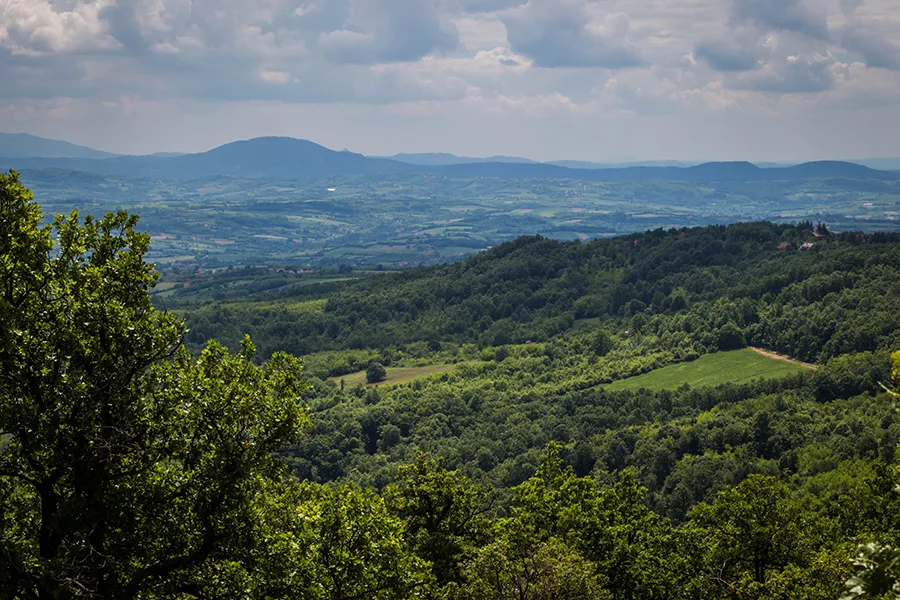 Kosmaj, with a peak of 622 meters, is the second lowest mountain in Sumadija after Avala. It is located 55 kilometers from Belgrade and has a crescent shape. Kosmaj comes from the Celtic word cos (forest) and the pre-Indo-European word Maj (mountain). Since 2005, Kosmaj has enjoyed the status of a protected natural asset of exceptional quality. More than 70 percent of the mountain is covered with forest vegetation, which is dominated by oak and beech forests. At the top of Kosmaj, there is also a viewpoint, a wooden tower from which a view of Šumadija can be seen. The mountain is full of greenery. On its steeper side, it is overgrown with forest, while on the gentle slopes, it is covered with grassy vegetation. Kosmaj is home to various game species, and there are 95 drinking water sources.
Kosmaj is known for a large number of contents it offers, from riding quads to riding schools. It is a favorite place to escape into nature for both the citizens of Belgrade and those from Novi Sad due to its proximity and excellent offer such as delicious food in the restaurant "Kod Tome i Nade", as well as craft beers produced in the "Kabiner Brewery", and also because of the beautiful viewpoints and untouched nature.
A modern Renew complex is currently being built on Mount Kosmaj, which is located 365 meters above sea level and represents a combination of nature and peace on the one hand and luxury on the other.
The complex comprises 18 houses with swimming pools, four residential units, and the luxurious hotel "Momentum", which has a spa and wellness center of 1.000 square meters, a restaurant of 800, two swimming pools, and a gym.