Municipality of Zvezdara
06.10.2017
Municipalities of Belgrade
The city municipality of Zvezdara has a rich history and an even more interesting present. It is a city within a city and a urban oasis which offers everyone everything they may need.
PRACTICAL INFORMATION
Zvezdara spreads across 3,064 ha, and the urban area encompasses 726 ha. The municipality of Zvezdara is formed by the area of the same name, and Veliki Mokri Lug, Mali Mokri Lug and Mirijevo.
City Municipality of Zvezdara
Boulevard of King Aleksandar 77, phone number : 2422-122, 3405-100, 3405-600
www.zvezdara.org.rs
KANCELARIJA ZA MLADE Zvezdara
Nerodimska 2, phone number : 011/6759-533
http://kzm-zvezdara.org.rs
Health Centre of Zvezdara
Olge Jovanović 11, phone number: 011 3041 400
http://www.dzzvezdara.rs
Post offices of Zvezdara:
Ustanička 182, work hours: 08.00-19.00; 08.00-14.00, phone number: 011 321 0086
Veljka Dugoševića 19, work hours: 08.00-15.00, phone number: 011 329 3928
Bulevar kralja Aleksandra 77, work hours: 08.00-19.00; 08.00-14.00, phone number: 011 240 2025
Mirijevski venac 22a, work hours: 08.00-19.00; 08.00-14.00, phone number: 011 364 3143
Kraljice Marije 3, work hours: 08.00-19.00 ; 08.00-14.00, phone number: 011 337 6818
INTERESTING ABOUT ZVEZDARA
Back in 1887, on a hill called Veliki Vračar. an Astronomical observatory was founded. Soon after, the hill known as Veliki Vračar was renamed to Zvezdara ( In Serbian, Zvezda means star).
The first found writings about this area date back to the 16th century. On the territory of modern day Zvezdara, there is a street called Boulevard of King Aleksandar, which is known as the busiest street in Serbia. The name of the street has been changed a few times. It was known as the road to Tsargrad because it connected Belgrade ( then known as Singidunum) with Tsargrad.
Beneath the Zvezdara forest, while the Turks ruled Belgrade, there was a beautiful area known as ``Baba Ruža`s neighborhood``, which was decorated with various plants and flowers.
The territory of Zvezdara before the Second World War looked significantly different. At the time, the area was considered to be on the outskirts of the city. The area was populated with Czech people who were good musicians. They entertained the people of Belgrade, along with other German, Hungarian, Jewish and Russian families. Zvezdara, at the time, became known as a very cheerful part of town.
This ethnically diverse area had other advantages, other than fun. This was the neighborhood where the popular tramway number 6 drove through, connecting the people of Zvezdara with the centre of the city.
Today, Zvezdara is not considered to be a rural area. It is one of the most developed areas of the city, and it has preserved its inclusiveness to everyone. The natural beauties of Zvezdara are the Zvezdara forest, an excellent view of Belgrade, schools, faculties and theatres.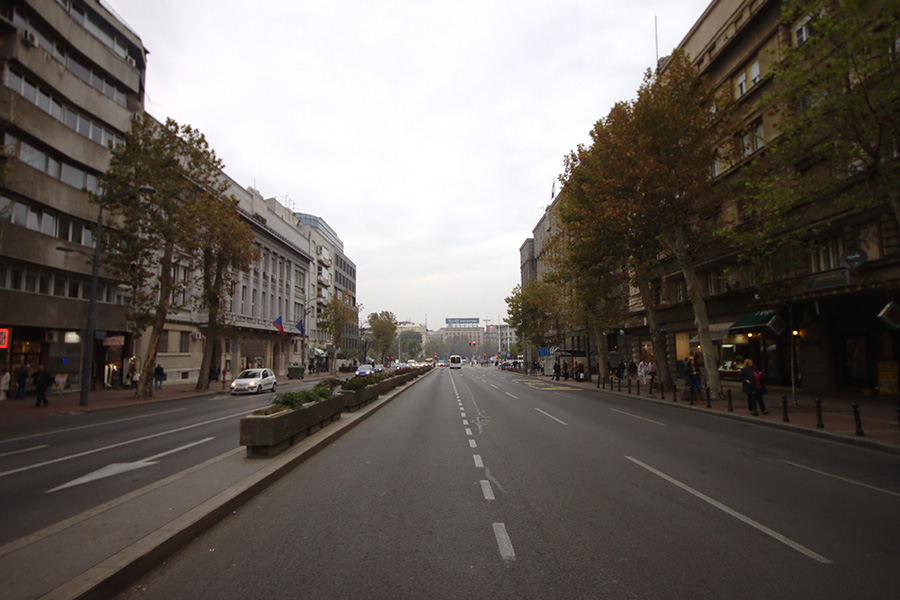 INFRASTRUCTURE
The connection of Zvezdara and the rest of the city can be found with numerous means of public transport. The best ways to go to other municipalities is via buses numbered 20, 25P, 27, 27E, 46, 74, 79, 32, 55, 65, 66, 75 and 77. Tramways numbered 2, 5, 6, 7 and 14 along with trollies numbered 28, 40 and 40L are also very useful. Also, the first electronic bus named EKO 1 also passes through Zvezdara.
EDUCATION
Zvezdara education is centered around elementary schools and high schools. Zvezdara has 14 elementary and 10 high schools, which make this area a great place for families. On the territory of Zvezdara there are no Faculties, if you live near the Vuk's Monument, a large number of Faculties will be at your grasp. Nearby you can find the favorite cafeteria of most students – Lola. If you are a student, you have a very big chance of being placed into a dorm located within Zvezdara named "Patrisa Lumumbe". This dorm houses the biggest number of freshmen.
Along with educational, Zvezdara has a lot of cultural facilities, as well. Zvezdara has Zvezdara theatre, Pan theatre and the cultural facility "Vuk". Besides those, in Zvezdara you can find the Astronomical observatory, as well.
SPORT
The most important sporting center on the territory of Zvezdara is the Sporting Centre "Olimp". It is one of the most well decorated facilities in Belgrade. It is located near the Zvezdara forest and it has outdoor and indoor fields as well as a large swimming pool. You can find handball courts, volleyball and basketball courts, football fields and tennis courts, gifted by Novak Đoković.
JP SC "Olimp-Zvezdara"
Vjekoslava Kovača 11
www.scolimp.rs
Besides "Olimp", the long tradition of Zvezdara sports is held by the "Hajduk" Football Club and the Sporting association "Radnički".
SHOPPING AND HOLIDAYS
The centre of shopping within Zvezdara is the Boulevard of King Aleksandar. Along the entire street you can find various shops, restaurants and coffee places. Near the Eastern Gate of Belgrade and a few minutes away from the Boulevard of King Aleksandar , in 2015, a new retail centre called ``Aviv Park Zvezdara`` was established and soon after, it became the most popular place for shopping.
Zvezdara has a lot of old and cult restaurants. Pavle Korčagin, Tabor, Zlatnik and Sinđelić are some of the most famous , along with the cult night life places such as "Ona moja" and "Limun žut".
For those who prefer daily activities, a walk in the Zvezdara forest, can be quite relaxing. Those who like nature, will fall in love with Zvezdara.
ADDITIONAL INFORMATION
Population : close to 150.000 inhabitants
Average price per m2 for sale: around 1 100€
Average price per m2 for rent: around 6.90 €
Schools: 24 (14 primary, 10 secondary)
Kindergartens and preschools: 35
Health : 1 Health centre, 1 Infirmary, 6 clinics, 5 hospitals, 36 practices
Parks : 2
Shopping : Shopping Mall Mirijevo, Shopping Mall Mirijevo 1, Shopping Mall Mirijevo 2, Shopping Mall ``Okretnica``
Parking : green zone (180 min), free
Parking spots : possible jams
If you fell in love with Zvezdara on first sight, check out our offer of apartments in Belgrade, Zvezdara. You could find your perfect home today!