How to rent your apartment during the state of emergency
18.03.2020
Real Estate Market / Cityexpert
When the times are difficult, we must do everything in our power to adjust and to bring out the best from the situation and ourselves. City Expert is here for all of you who are property owners, renting apartments in Belgrade or Novi Sad.
We are the first Serbian online real estate agency, and we use all the advantages of modern technologies to connect landlords and tenants. That is why we wanted to address some concerns you might have at this moment.
1. The renting of the apartment will have to wait; I'm over 65
New rigorous measures have been introduced to deal with the coronavirus pandemic, forbidding anyone over 65 to leave their homes and restricting the movement of everyone else. If you're over 65, delegate someone younger to work on renting your apartment. Thanks to all the advantages of City Expert, it won't be a demanding task.
You can call us on workdays, from 9 am to 8 pm, phone no 011 4426000 or here, and let us advertise your property in the best possible way on cityexpert.rs. Our customer care will schedule a professional photoshoot, aka the photographer's visit. We equipped our photographers with enough disinfectant gels, face masks, and medical gloves to make the visit safe for them and you. And here you can read about the security measures we recommend to our users.
Because of the curfew from 8 pm to 5 am, the property photoshoot has to be done in a time frame that allows our photographers to do their job and come home safely. Please, have that in mind.
In just one working day, the photos and video of your property will be added to a unique multimedia property presentation (photographs, video, 360° view of every room connected to an interactive floor plan). We will upload it on our website and make it very visible on many digital channels – and let the renting begin!
2. Is the risk of showing the apartment to a bunch of people too high?
One of the main advantages of our way of doing business is the fact that thanks to a media presentation and transparent information about the property, the tenants that contact you will be familiar with everything about your apartment: they took a virtual tour in it, thanks to video and 360° view we provided. They read everything about what you expect, including the amount of the monthly rent, and the minimal time of lease. Because of that, they are fully informed, and they will not be wasting time on unnecessary visits.
So, only interested and well-informed tenants will contact you. Maybe there won't be many visits, but you'll probably rent the apartment more quickly.
3. OK, but it still involves contact with people…
To lease your apartment, you have to meet a tenant in person, that much is not changed. But if you follow the recommendations of the Serbian Ministry of Health and City Expert, the risk to your health and the tenant's health will be minimal.
With us, you'll communicate with the tenant directly. The tenant who wishes to visit your apartment will text you and propose a date and time for the visit. You, and only you alone, will decide if it suits you, and you choose a tempo of visits. Our people don't attend appointments, only you and tenant will be there.
If more than one person shows up for a visit, you can ask them to see the apartment one at a time. Do everything you need to feel safe, that's the most crucial thing in this situation.
4. Should I lower the monthly rent because of the state of emergency?
That decision is up to you, but you should always be open to negotiation. Don't forget; the tenants are just people like you, worried about their health and future, with the added burden of searching for a "roof over their head." It's a nice thing to help them out.
Make sure to mention the amount of the monthly rent during the state of emergency and the monthly rent after in the Lease Agreement. It's a document that protects both parties, easy to fill in, and legally-binding just with your signatures. With it, you can determine the monthly rent, deposit, who is responsible for the repairs, and many other things that will help you in the future.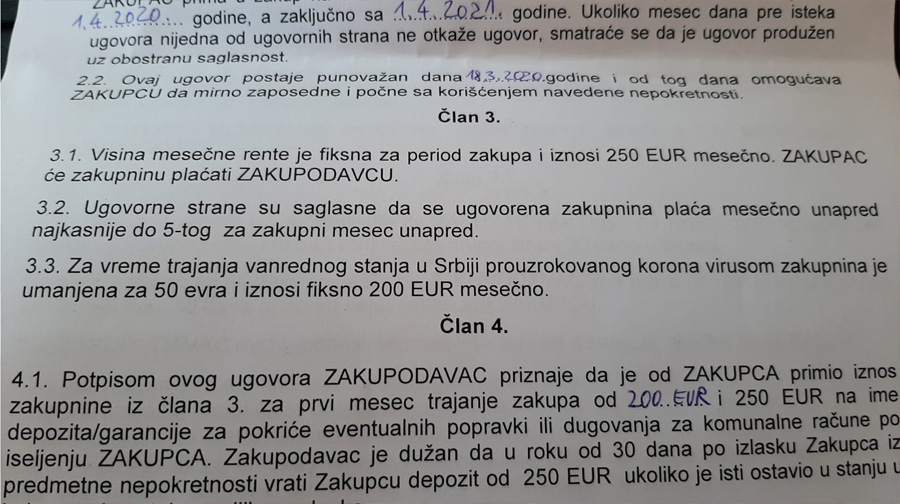 5. The tenants are leaving; I have to find the new ones
No problem. If you work with us – it's the easiest thing possible. After we receive your call, the saved multimedia property presentation will be ready for uploading in a matter of minutes. And then you can expect texts from interested and well-informed tenants who like our service because it's free for them.
The renting of flats in Belgrade and Novi Sad can't stop because of the state of emergency. Still, it has to be done with extreme precaution and special hygienic and safety measures, and for it to be efficient, with the help of the unique real estate service, City Expert.
We wish you quick and safe renting!