The ideal living location for Russians in Belgrade
13.08.2022
Advises for the Russians
What is the best location to live in Belgrade is the million dollar question and the answer to it largely depends on individual preferences. If you are a foreign citizen and this is your first time in Belgrade, this article might help you choose your ideal living location in the capital city of Serbia.
Belgrade center
If you like to be in the center of all city happenings, the central city districts such as Stari grad, Savski venac or Vracar are ideal for you. Aside from the fact that these locations all represent a beautiful blend of old and new, they also feature many schools, shops, museums, theaters, cafes and taverns. Additionally, they are also home to many famous historical and other attractions of the city, such as Kalemegdan, the bohemian quarter Skadarlija, Russian home and many other cultural institutions and monuments. An additional advantage lies in the fact that they are situated close to all important locations in the city and are well connected to the rest of Belgrade.
However, if you decide to live in one of these central districts in Belgrade, you should prepare to deal with traffic crowds and car noises, as well as music until late in the night. The one exception are the apartments situated in Belgrade Waterfront, which are designed to provide anything you might want in life without negatives such as traffic crowds or noise.
All of these benefits you can enjoy in central districts of Belgrade definitely impact the price of the apartments there, whether you are buying or renting. If you decide to reside in any of these areas, you should be prepared to set aside a hefty amount of funds for it.
Zvezdara and Vozdovac
Due to the fact that the price per square meter is the highest in the central districts of Belgrades, many opt to live in some more remote areas such as Zvezdara or Vozdovac. The advantage of these locations is that it will be much easier for you to enjoy your peace compared to the city center. Vozdovac features numerous educational institutions, ranging from junior schools to faculties and you will still have easy access to anything you need to enjoy an urban lifestyle. In addition, Vozdovac also features the Bajford (Banjicka) forest, so you will be able to enjoy nature only a few minutes away. There's also the stadium "Rajko Mitic", the sports center Banjica and many restaurants, cafes, banks and supermarkets.
Zvezdara offers almost the identical benefits as Vozdovac. Aside from the fact that everything is within easy reach, the main star of Zvezdara district is the Zvezdara forest, one of the largest and most beautiful locations in the city where you can go to enjoy a picnic and relax. The Kralja Aleksandra Boulevard is the main ticking vein of Zvezdara and through it you will be easily able to reach any part of the city. The Boulevard also features many institutions, shops, banks, stores and cultural institutions. The price pre square meter of residence in Vozdovac and Zvezdara is somewhat lower compared to Vracar, Stari grad or Savski venac.
New Belgrade and Zemun
The New Belgrade district is the business center of Belgrade which was constructed specifically to feature many parks, schools and kindergarten. One of its advantages is the fact that there is plenty of parking space, which is usually a big problem in the old town part of the city. Additionally, there are many sporting courts, malls and company headquarters and banks here. On the other side, the numerous park and the proximity of Danube and Sava rivers make the ideal conditions for a peaceful life.
The Zemun quay and Gardos tower are the two major landmarks of the Zemun district, and the advantages it offers compared to New Belgrade is that it is one of the most peaceful districts and an ideal location for quiet living. The price of square meter in Zemun is also drastically lower compared to Belgrade. Quiet living near Belgrade
The increasing urbanization of Belgrade and growing traffic jams, noise and lack of green areas have led many citizens to move from the center of the city to more remote locations. Alongside the left bank of Danube there are the settlements Borča and Krnjača, and also more and more people are moving to Banovci.
The advantage of these locations is that you get to enjoy peaceful living but you are still close enough and well-connected to the city enough to be able to quickly reach anything you may need. Privacy and comfort that you can enjoy in these settlements surrounding Belgrade while having everything you need available nearby are the advantages of these locations. Also, after a hard day's work you can enjoy quiet time and a nice view of the river, or take a light walk along the quay. The prices of real-estate in these suburbs around Belgrade are lower compared to the other districts we listed, but they are also rising from year to year as the settlements get urbanized as well. This is why more people are purchasing new construction real-estate because they know it will pay off in the long run due to the growing market.
If you would like to purchase an apartment, our agents can help you in your native language to find the ideal apartment and provide any needed information surrounding documentation and paperwork. City Expert features a special department for Russian citizens where a licensed agent will get you all the info you need completely free of charge.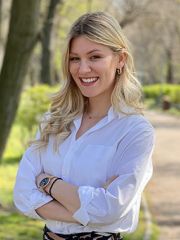 Miljana Veselinovic
PR manager
Carpe diem!