A detailed guide for Russian citizens: How to purchase an apartment in Serbia?
15.08.2022
Advises for the Russians
More and more foreign citizens, predominantly people from Russia, are opting to purchase real-estate in Belgrade. However, although foreign buyers usually have the funds ready to purchase the real-estate, there are many difficulties they might face while doing so. Not least of which is the language, but also the paperwork involved.
If you would like to purchase an apartment but you are not familiar with the procedures involved, this article will provide detailed instructions on how to gather all the required documentation as a foreign citizen.
City Expert has a special department for Russian citizens where you can obtain all the required information completely free of charge and in your native language, directly from a licensed agent.
What documentation is required to purchase an apartment in Serbia?
The "white card", i.e. your residence registration
After you've entered Serbia, the first thing you should do as a foreigner is to obtain the so-called "Beli karton", or "white card" which is your residence registration in this country. In charge of registration for foreigners in Belgrade is the Police department of the city of Belgrade, department for Foreign visitors which is located at 35 Savska street. As a foreign citizen, you are obligated to report your stay and any change in address to the proper authority services within 24hrs of your arrival. You can do this online via the Euprava internet portal.
A bank account with a Serbian bank
After you have registered your residence address with the police, you should open an account in a Serbian bank. In order to open a bank account you need your passport and your "white card".
Your marriage certificate
If you are visiting Serbia with your spouse, you must provide documentation of your marital state or proof that you are not married. In addition to this, you will need two witnesses and a court interpreter. All documentation except for your passport must be translated into Serbian and certified with a court interpreter's seal, and you should also have the original documents with you to present with the translations and copies.
Witnesses and a licensed translator
The witnesses must be present for your visit to the public notary not only because of the language barrier, but also to guarantee that they have signed everything that was presented to them. The best advice for a foreign citizen regarding this procedure is to ask two friends or people they know who are already in Serbia to be their witnesses, but if that is not possible then you can hire witnesses for the price of 3.000rsd per person. The court interpreter also charges for their services and the standard price ranges from 60-80eur per initiated hour.
Pre-contract for credit buyers
Pre-contract is a soft requirement which only pertains to credit buyers, but you can also compose one if you are paying in cash. Creating a pre-contract is the basis for transferring your funds from a foreign bank.
If you have found a real-estate of interest on our website, our agents can guide you through the entire procedure in your native language and remove any confusion or doubt. They can also help you with the pre-contract and anything else you may need.
Purchasing an apartment through our website is a safe and proven method. Although we have all the preliminary documentation, we always ask owners to provide additional documents so that everything is in full compliance with the law on the legal end. Also, our attorneys can create pre-contract or contract proposals which are sent to the clients to read first so that there are not any misunderstandings or confusion.
Our agents will oversee the entire real-estate purchase process so that there are no unforeseen circumstances.
Contract for cash payers
If you would like to purchase your real-estate for cash, there is no need to create a pre-contract and we can directly compose a contract instead.
Money transfer
The best way is to transfer funds into your foreign currency account in Serbia, and then go through a Serbian bank to perform your transfer of funds. We recommend that before purchasing the real-estate, you should inquire with the bank on the methods and speed of funds transfer. For example, how much time it takes for a large sum of money to be transferred from an account in Russia to an account in Serbia. It's important to consider this information when choosing your bank in Serbia, because waiting times can sometimes be over 15 days long.
Also, cash payments are also possible, but only up to an amount of 9.999EUR due to the Money laundering and terrorism financing Law which regulates such transactions.
Contract verifications
After everything has been checked, our agents will send the documentation to the public notary, who may ask for additional documentation to be provided. Once the notary has given their approval, we arrange the date of verification and schedule it with the notary.
Clausula intabulandi
Once the funds have been deposited with the Serbian bank, the money is then transferred to the apartment seller's account and they then issue the confirmation in the form of clausula intabulandi (which is the permission to enlist the real-estate into the real-estate cadastre which is signed by the seller).
After this, payments are made following the agreed-upon dynamic, and after the payment is made, the new owner is registered in the cadastre, making them the official owner of real-estate in Serbia. This makes it easier to obtain a permanent residence condition in Serbia.
No VAT or absolute rights transfer tax refunds.
It is important to know that foreign citizens do not have the right to VAT or absolute rights transfer tax refunds.
Expenses surrounding apartment purchase:
These are the usual expenses involved with buying apartments in Serbia:
Contract verification fee (this depends on the value of the real-estate, but is usually up to 500EUR)
Court interpreter's fee, usually around 60-80EUR per initiated hour
If you have no witnesses, 3.000rsd per person
Absolute rights transfer tax, which amounts to 2,5 percent of the real-estate value and is paid after the decision by the responsible tax management institution is issued (this is the highest expense)
Bank expenses and commission fees
Do you need additional help?
If you need a professional agent's help in gathering the required documentation for apartment purchase in Serbia, our licensed agents will give you all the information and answers you might need.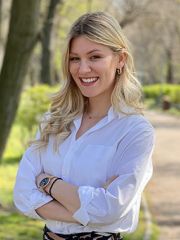 Miljana Veselinovic
PR manager
Carpe diem!