Why did we decide to become an online real estate agency?
28.08.2018
Cityexpert
We are the first, and so far the only online real estate agency in Serbia. We decided to make such a big decision because we wanted to upgrade our services and offer our clients something new. We made the most significant changes regarding the property viewings without an agent present at the location and communication between interested parties. Find out more about the bravest decision we have made so far and learn more about the benefits of our new business model.
The easy way to ideal property from the comfort of your couch
You are probably familiar with the concept of online shopping from the comfort of your couch. We know that buying an apartment is a bigger deal than buying kitchen appliances from a TV shop, but the idea behind it is not entirely wrong. Of course, for this concept to work there must be no false advertising. You don't need to drive for hours around the town, meet your agent after work, and have a dozen viewings in a single day. If you are the owner of the property who wants to sell or lease the apartment, then you won't have to come to the said property every day after 5 pm or spend weekends meeting potential buyers there.
You can browse apartments from the comfort of your couch, select those that you like and schedule viewings only for those apartments that you are interested in. Property owners can add their properties online via a form on our website, learn more about paperwork they need, send us that paperwork via email or message, and we will schedule the photoshoot and publish the property presentation online within 24h. After that, property owners can schedule the viewings when it suits them the best. The main reason this method works is that we do everything with complete transparency.
We can guarantee total transparency because we have:
Online agents that lead you through the entire process of sale and lease. With us you know in advance about paperwork, buying and selling time-flow, and what you need to do to ensure you get the most from your apartment.
Customer support that helps you with technical issues and answers your queries, no matter how specific they are.
Legal team. Thanks to them we feel completely safe and confident that we did everything according to law, and that property owners, buyers, and tenants have the help they need. That is why we can offer complete transparency because we do everything by the book.
We have the expert team, IT, photographers and other professionals who maintain the quality of our services and work hard to improve our business.
The easy way to transparent real estate brokerage
As we can lay all cards on the table, in our case we can put all information on our website, you can rest assured knowing that with us everything is exactly as it shown on the website. You can take a look at HD photos, video, 360 view, read about fixtures, fittings, and expenses. So, when there's no elevator in the building or there is a shared entrance to the house you will know that in advance before you decide to visit the apartment. For every property on our website, we did a complete background check and gathered all legal paperwork. That means that there is no hidden catch and that nothing will prevent you from buying your dream property. That also means there won't be disappointed parties who decided not to get the property because there's no elevator, balcony, Jacuzzi, etc. All these information are available online and presented in an advanced media presentation. Of course, it may happen that someone just misses an important detail, but it rarely happens.
The easy way to save time
When we can offer transparent services and honest cooperation, why wouldn't we do that online and save your precious time? The property owners won't have to meet with the agent every time when they have a viewing. They can schedule a direct meeting with the interested party. As potential buyers and tenants know in advance what they can expect, the owner doesn't have to waste too much time hosting viewings. Buyers and tenants don't need to spend too much time at the viewings asking questions about expenses and maintenance because they can find out about them on the website. You don't need to deal with paperwork for ages, only to find out that you need another copy, because we will tell you everything you need to know in advance.
You can schedule viewings online, communicate via email and SMS, and find all the information on the website. Our online agents are available via phone, and thanks to them we were able to transition to an online real estate agency. They lead the negotiation process, help with setting up budgets and make price estimations, and they do what they know best - sell and lease properties.
Our new online system was designed to cut costs, so now we offer lower commission for property owners. That's 25% cheaper than our competition. We manage to maintain the same quality of service for much less time. With the faster process of buying and selling, we have more time for other challenges, and the property owners have more time for themselves. Instead of the agent present at the location and negotiations via the third party, now owners can show the property themselves and get an offer directly from the interested buyer or tenant. If they are not satisfied with the proposal, they can always call the agent and ask for help in the negotiation process.
We switched to an online model to save time, reduce costs and offer the lowest commission on the market. We have switched to the online model because we have nothing to hide from our users and because we want to make it easier for everyone to sell and lease, buy and rent properties. We have switched to the online model because we believe in transparency, we do everything by the book, and we think that the real estate market can only change if everyone who's part of it changes too. As pioneers in transparent real estate market, we are proud of our users and fans, and we know that together we are bringing the real estate to the future.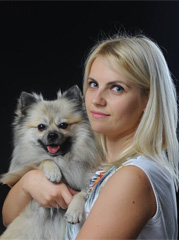 Lola Milenković
Copywriter
Pockets full of sunshine