Life in the state of emergency - Easter edition
16.04.2020
Advices
This year, Easter will be a little different because we will celebrate it without relatives and friends. Still, after all these days spent in the weekly quarantine routine, Easter will be a welcome change. Here are some ideas on how to make great Easter decor and have fun with your family while doing it.
Easter Egg Dyeing
There's no Easter without eggs, and egg dyeing is a fantastic family activity. Gather at the table and let your imagination run wild with the colors, markers, stickers, confetti, sequins, washi tape. Kids will surely enjoy it, and adults will have the opportunity to relive childhood memories. The internet is full of ideas and techniques for egg dyeing and decorating; these are the ones we found interesting:
a) Draw with markers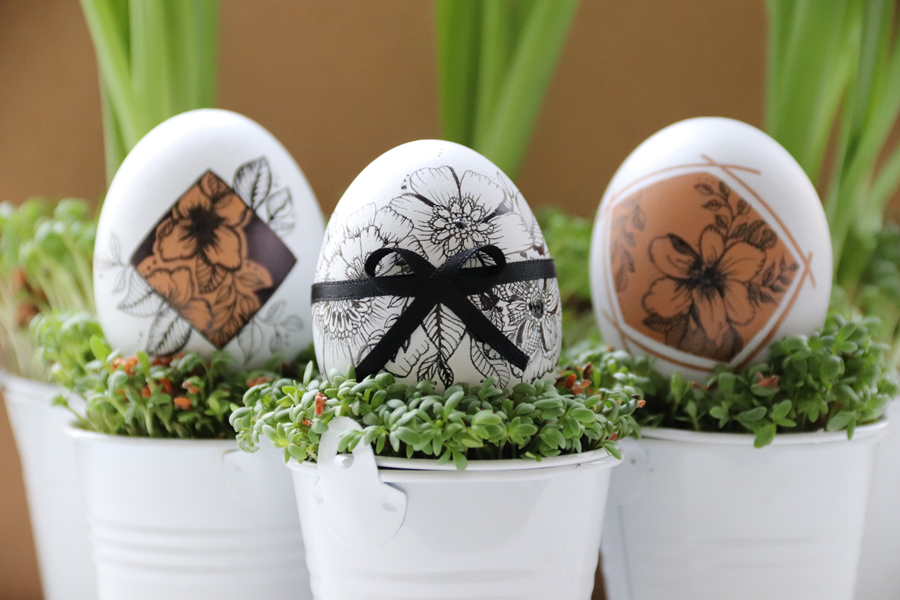 This technique is perfect for stress relief. To get a good contrast, use white eggs or whiten them by boiling in a water and vinegar solution.
You need an egg (cooked and dried, wooden, or made from some other material) and a thin marker. You can use a stencil or sketch with a mechanical pencil. And then draw whatever you want, detail or geometric patterns, floral motifs (as pictured), or abstract designs.
You can also use different colors or draw on dyed eggs. The possibilities and combinations are endless.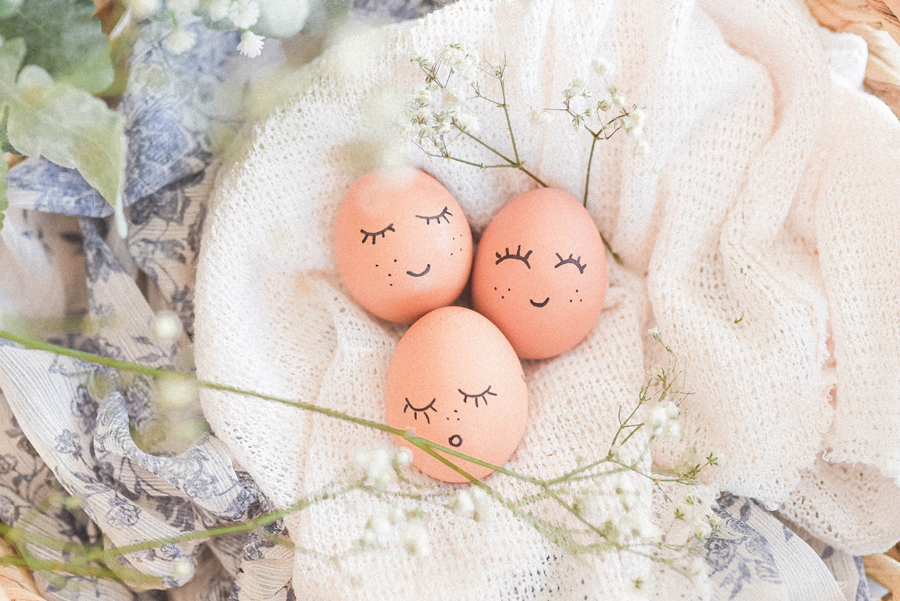 Invite kids to join you. They can draw smileys - or family members portraits.
b) Food color dyes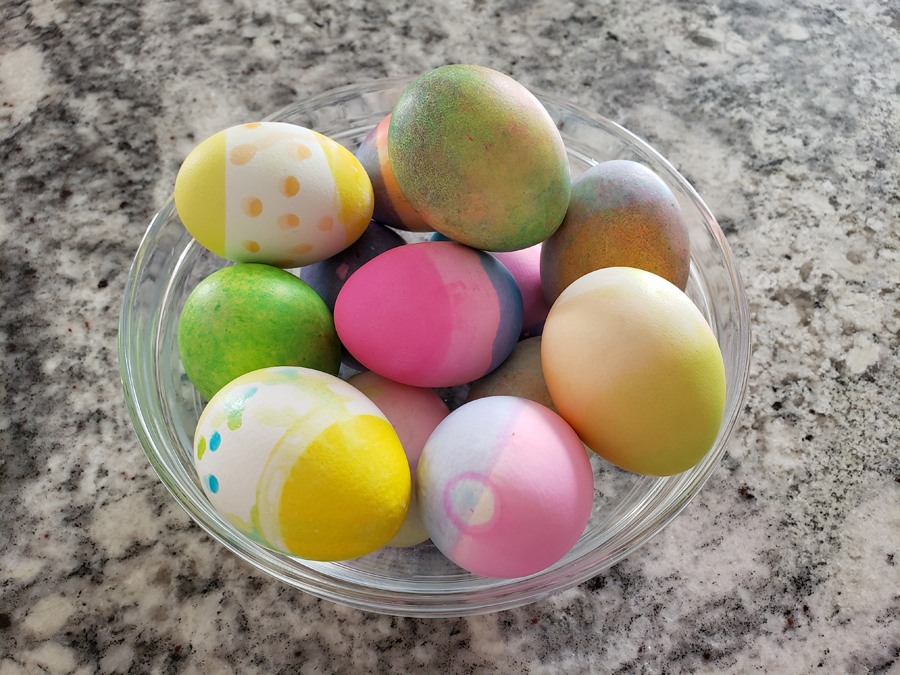 Less is more. You can use this technique if you want to get delicate and pastel Easter eggs. The eggs are pre-cooked and then kept partially submerged in dissolved color for a minute or two. First, you dye one end, then the other by dipping it into another color. You can use a paint brush to add dots or other details.
c) Natural dyes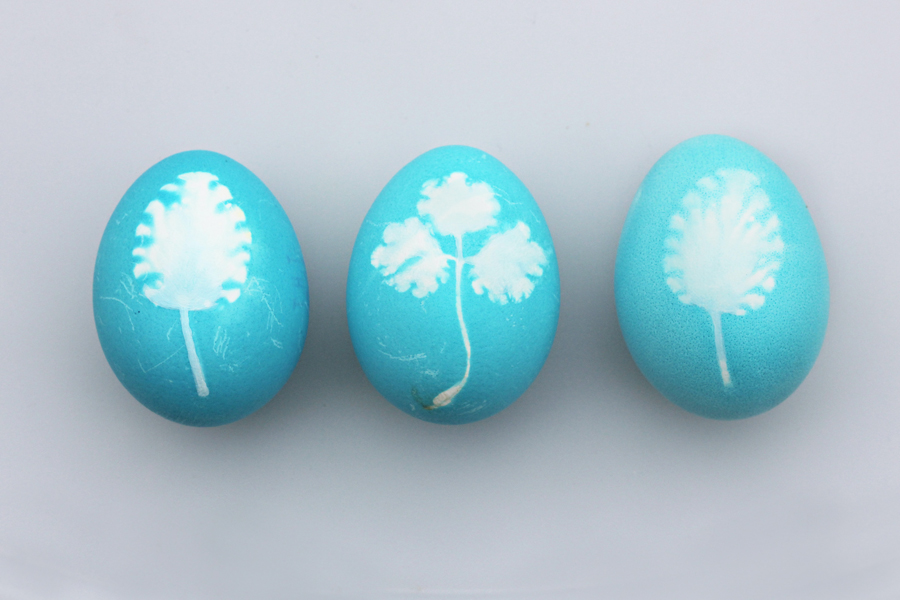 This beautiful blue was achieved by cooking eggs with red cabbage.
You can dye eggs with a variety of foods you have in the house. Except for traditional onion skins, you can also try cooking or dipping eggs in coffee, wine, spinach or dandelion, beetroot, turmeric, blueberries, paprika. As a general rule, a longer dip time will result in a deeper egg color.
Bonus tips:
a) Two old tricks for decorating eggs. The first one, place an egg with a pressed leaf in a nylon socks (like the blue egg in the picture), and then dye it. The second is to draw a motif on the egg with a white wax crayon and then dye it. You'll get beautiful results.
b) If you follow home décorating trends (boho, modern farmhouse, industrial, black everything), you could also make your Easter eggs in that style. You can find tutorials online.
Decorate your home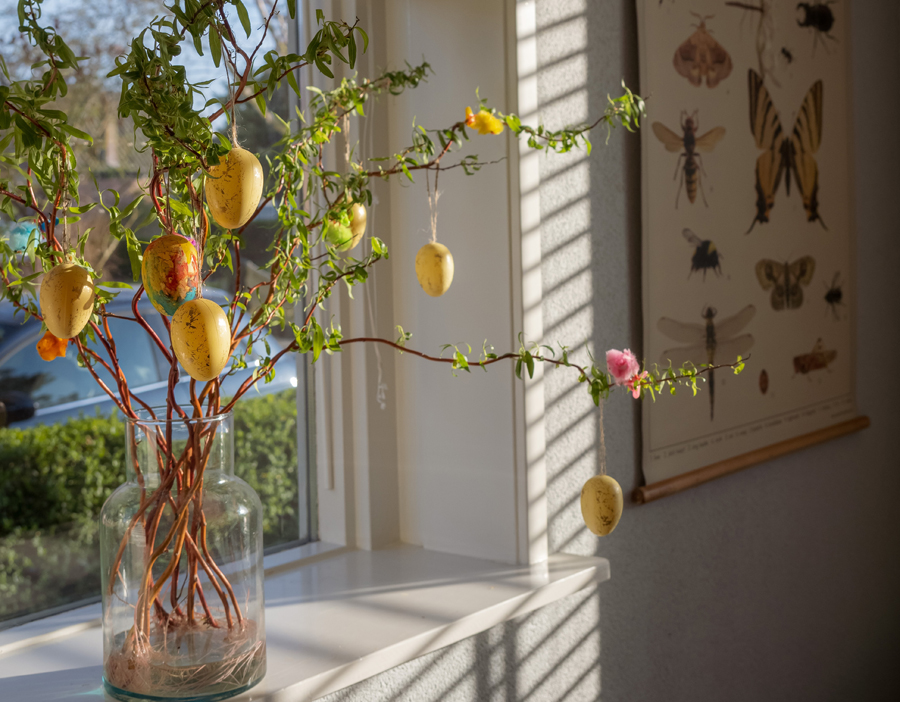 Bring spring into your home with joyful floral arrangements. Spring flowers (tulips, hyacinths, daffodils, lily of the valley) are in full bloom. You can also make ikebana with twigs and decorate it with eggs, chickens, bunnies, or any other motif traditionally used in your family. There are also front door wreaths that you can buy ready-made or make yourself, as well as a simple yet very effective decoration: balloons. Kids adore them, and are right about it - balloons bring lightness and joy to any space. Plain balloons in different colors are good enough, but you can also get balloons in Easter shapes and motifs.
Set a festive table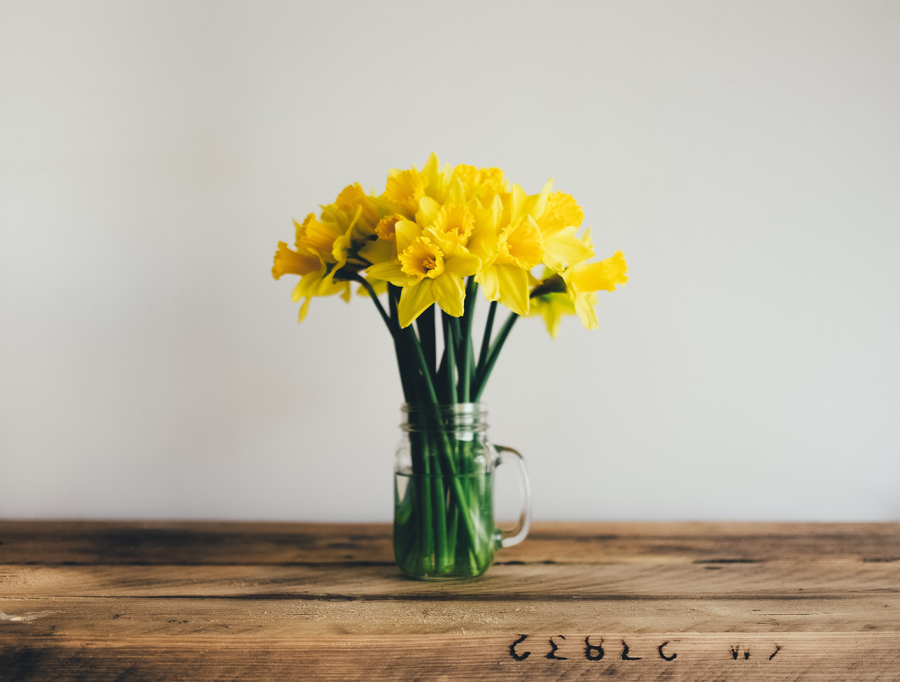 The most important part of Easter is bringing the family together for a traditional Easter meal. It is a good idea that you set the table for this occasion differently than usual. You need the usual: a tablecloth, elegant and straightforward or one with Easter motifs, plates, glasses, paper napkins with Easter motifs, and a centrally arranged flower arrangement or basket with Easter eggs. If you don't have a set of plates for special occasions, don't worry. With a little creative napkin folding or with a unique Easter napkin ring, the plates will look festive.
This Easter is a little different from the previous ones, but that is why we should all strive to celebrate it the best we can. Enjoy the holiday with your loved ones!