New investment for City Expert - First online real estate agency in Serbia
15.06.2018
Cityexpert
We have exciting news. City Expert raised 700,000€ from international investment fund South Central Ventures in June 2016. After that, we received an additional 800,000€ to help us change the world of real estate forever. We are beyond happy to have this opportunity. It took us a lot of work to get here and we are proud that we became the number one online real estate agency in Serbia. Find out more about our plans for the future.
South Central Ventures as a part of Enterprise Innovation Fund (ENIF) invests in tech start-ups in the Balkans. Their goal is to support start-ups that use technology in order to change the way industry works. We decided to digitize the process of sale, purchase, and property renting and to provide full support for our users every step of the way. In order to achieve that we combined our traditional agency experience and cutting-edge technology.
When we started City Expert, we wanted to help users find apartments quickly and without unwanted surprises. If you asked anyone back in 2015 what does it take to find an apartment to rent in Belgrade, they would tell you plain and simple - it takes a miracle! Shady ads with blurry pictures, unavailable agents with overbooked schedules, and thousands of ads to go through were pretty much the only way you could go apartment hunting. What people despised the most are the misleading ads that promise one thing and turn out to be something completely different. We wanted to put an end to that. That's where we came in.
Over the next couple of years, we managed to become the most technologically advanced real estate agency in Serbia and beyond. We implemented interactive property presentations that shortly became the staple of our business. Users, IT professionals, big companies, and newspapers recognized our potential and soon enough everyone was talking about City Expert. What they talked about the most was our website where every door to every apartment was wide open for everyone to enter. Online presentations offer virtual tours so users can see how the apartment actually looks like without even getting out of their chair. This way we saved our buyers and tenants precious time.
In 2018, we got big money for our even bigger plans. We wanted to switch to an entirely new business model but keep all our core values. We managed to do that by becoming an online real estate agency. We feel that in this way our users/clients/customers/visitors benefit from even better service while retaining the support and reliability of a real estate agency, which is always there to support you. To be able to do the majority of the work online we needed to have reliable technology that will work like a charm. Thanks to the investment we received, we are able to improve each of our sectors.
After we make sure that we perfected our business in Serbia, we are eager to expand to the international market. City Expert is becoming the number one online real estate agency in Southeast Europe.
Over the next couple of months, we will be implementing new features to the website as well as new procedures to help our customer get the best, most transparent real-estate experience possible. We strive for transparency and efficiency and we would love to hear your thoughts on the topic.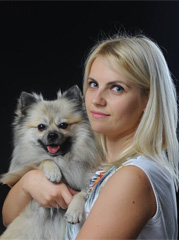 Lola Milenković
Copywriter
Pockets full of sunshine