How did God end up in court because of the house?
01.06.2022
Legal advice / Interesting
In Arizona, in 1970, a woman filed a lawsuit against God, the value of which was 100,000.00 dollars, suing him for negligence because he allowed lightning to strike her house and burn it to the ground. Since the defendant did not appear in court, she won the dispute. It remains unclear who compensated her for the damage she suffered.
Can God be a party in civil proceedings in Serbia?
This situation cannot happen in our country, primarily because the Law on Civil Procedure provisions stipulate that a party to civil proceedings can be any natural or legal person. The court can exceptionally recognize the status of a party and some forms of associations and organizations if it determines that they meet the necessary conditions for acquiring party capacity, especially if they have property on which enforcement can be carried out. So, it is pretty sure that God could not be a party in the litigation.
In addition, the defendant must be duly summoned for the court to render a judgment due to absence (caused when the defendant does not appear at the preparatory, i.e., at the first hearing for the main hearing). Since it is not possible to invoke God properly, which means receiving a warrant for a hearing with a duly signed invoice from the defendant, it is clear that the claim of this American woman could not be accepted in our legal system.
Frequent court proceedings concerning real estate in Serbia
These are disputes over the right of ownership and other fundamental rights to immovable property, disputes due to interference by the state with immovable property, or disputes arising from lease relations on immovable property.
Local and actual jurisdiction of the court
What is characteristic of these disputes is that the local and actual jurisdiction of the court is determined by law, so it is an exclusive jurisdiction that the parties cannot resolve themselves. Therefore, it is excessive to include a provision in the contract on the sale of real estate in the court's jurisdiction in the event of a dispute. Regarding territorial jurisdiction, the court in whose territory the real estate is located has exclusive territorial jurisdiction. The court's actual jurisdiction (i.e., whether the primary or a higher court will judge in the first instance) depends on the value of the dispute. Any natural or legal person can be a litigant. Suppose it is necessary to file a revision against the verdict. In that case, it will be required to hire a lawyer since the Law on Civil Procedure prescribes that modification is not allowed if it is not declared through an attorney's attorney, except when the party is a lawyer.
Tips when buying real estate
Bearing in mind that real estate lawsuits are widespread in the work of domestic courts, we advise you to pay attention to all potential risks when buying real estate and reduce them as much as possible, for which professional help from City agents will undoubtedly come in handy. Experts and a legal team who deal with this matter in their work.
You can consult with a professional real estate agent on this and other topics. City Expert Real Estate Agency has an experienced legal team, representatives, and licensed agents who take care of all clients and help them successfully and quickly sell, rent, or buy an apartment, house, or business premises. If you need a home loan or cash loan, our Credit Advisor, your reliable partner in the loan application process, can help you step by step, without stress - completely free. Therefore, if you are buying or selling an apartment, you are in the right place.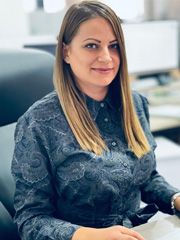 Aleksandra Đ. Andrejić
Attorney at law