Top 5 apartments for sale in Belgrade - March 2020.
04.03.2020
Top real estate
We know you're already enjoying the benefits of the advanced City Expert search, but to help you to find a perfect apartment, we've asked Vesna Minić, City Expert sales agent to select top 5 apartments for sale in Belgrade this week from City Expert offer.
5
Apartment for a family near Zemun's quay
This three and a half room apartment for sale is located in Novi Beograd, near Zemun's quay. The apartment is semi-furnished, with kitchen cabinets already included in the price, and it is possible to buy existing furniture and appliances. The apartment has three separate bedrooms and a spacious living room, with the separate dining room and the kitchen. The great thing about this apartment is that it has a pantry and a basement storage room, which you can use to park a bike, for example. The apartment is ideal for a young, dynamic family that doesn't mind taking the stairs to the 4th floor. This apartment guarantees to get you in good shape with everyday cardio exercise!
Pros: Price, location, great layout, central heating.
Cons: 4th floor in a building without the elevator.
Score: 8/10
4
Bright and modern apartment in Bežanijska kosa
This apartment is an excellent choice for a young couple or a splendid residence for one in a new building from 2015. The kitchen cabinets and appliances are included in the price. The layout is modern, the living room and the kitchen are combined in one area, and we especially like the bathroom with a bathtub. You can access a large balcony from a separate bedroom or a living room. The heating is central and billed per consumption.
Pros: Price, spacious balcony, central heating per consumption.
Cons: The distance from the center is around 9km, but if you like Bežanijska kosa or you work in Novi Beograd, this apartment is a perfect choice!
Score: 8/10
3
Ready for you: the apartment in the heart of the Zemun
This two-room apartment on the first floor is oriented to the Southwest and located in the municipality of Zemun. The apartment is sold furnished because most of the furniture is custom-made. All kitchen appliances are top-quality. Gas is used for heating, and it can be pre-programmed. Parking space is included in the price, and sold with the property.
Pros: Furnished, parking space, natural ventilation in the kitchen.
Cons: Price, but you don't have to invest, it's suitable for leasing.
Score: 8/10
2
Typical New Belgrade apartment
Use all of your imagination to see how beautiful this apartment is without the furniture, because it is sold unfurnished. Just look at the layout of this two-room apartment on the second floor of the building built in 1976. Both the living room and dining room are spacious, and there are two bedrooms. The apartment is completely renovated four years ago and has brand new aluminum joinery, hydro insulation, electrical installation, water and sewer, kitchen cabinets, and floor covers.
Pros: Great price for New Belgrade, great location, second floor.
Cons: No balcony. If you can't imagine a life without a balcony, it's not for you.
Score: 9/10
AND THIS IS THE MOMENT WE HAVE ALL BEEN WAITING FOR! THE FIRST PLACE ON CITY EXPERT TOP LIST OF APARTMENTS FOR SALE IN BELGRADE THIS WEEK IS...

1
Perfect for leasing business or to live in: a Skadarlija apartment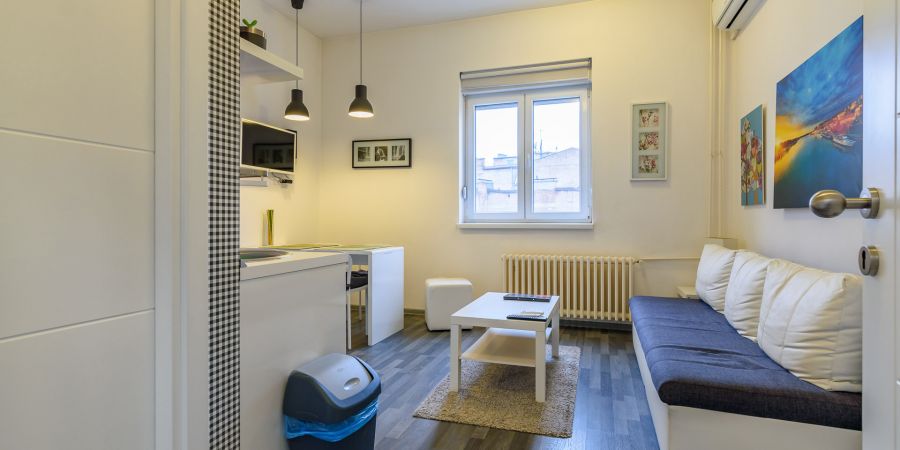 This contemporary property in the very center of Belgrade is sold fully furnished and adapted as two functional short lease apartments with two separate bathrooms and kitchens. The apartment may be sold as a short term lease rental business; however, this is optional. The building is within walking distance from the main city square and the old town bohemian scene of Skadarlija street. The flat is wonderfully sunny and bright, facing in two directions. It has high ceilings and central heating.
Pros: Great location, possible lease business.
Cons: Parking is hard to find.
(Price is not between cons because this type of apartment in this location is always a good investment. The central flats are still in fashion.)
Score: 9.5/10
We hope you enjoyed a selection of apartments for sale in Belgrade, handpicked for you by City Expert's agent Vesna Minić. If you like one of them, please give us a call. And make sure to check the offer of other apartments for sale in Belgrade or apartments for sale in Novi Sad. We are confident you'll find a perfect one among them.