5 most essential steps in selling a house
16.08.2022
Tips for owners
You've decided to sell your house but don't know how to do it. You have set a price that no one has responded to for some time. When selling a home, there are a few things you need to know to make the process go smoothly. In this text, you will find out how to prepare for the sale of a house in the most painless and best way possible and how to achieve it in the shortest possible time. Price is only one of the reasons why sales may not go according to plan, but it is far from the only one.
The price is determined by the market
You bought a house at a particular time in your life, but now you want to sell it. The price you paid then may be higher than the price now, which is determined by the market and how much the buyer is willing to pay. Sometimes it is essential to evaluate whether it is better to renovate the house or to sell it in its current condition. That is why owners need to leave the evaluation of the value of their real estate to professional and trained people who know how prices move on the market and who can sell it at the highest price, but not turn away interested buyers because of a too high, unrealistic price. Licensed agents of our company assess the value of real estate completely free of charge and help in the sales process, making an assessment based on the age of the real estate, prices in the surroundings of the object itself, but also depending on market trends.
Full documentation
When you decide to sell your house, it is essential to prepare all the necessary documentation to speed up the sale process and save time for both yourself and the buyers. It is required that your real estate is registered in the cadastre, that you are the owner of that real estate, and that there are no registered encumbrances or pending claims, such as usufruct, prohibition of disposal, or recording of disputes. Agents and the legal team of City Expert provide all the necessary information regarding the preparation of documentation and make the sales process as easy as possible. The house owner should own the cadastral plot on which the house and garden are located. This is important to be able to sell the house to credit buyers because banks do not give housing loans for homes whose owners have not registered the property on the land, that is, on the plot.
Clean your house
If you have decided to sell your house, it must look like it was built yesterday. Clean the house in detail, mow and arrange the yard, and put away unnecessary things and those that only cause you trouble. A buyer's first impression when he comes to a property is usually the one that leads him to choose one house and not the other. Make sure everything looks well maintained, airy and clean. The customer needs to feel comfortable, which is why removing unnecessary items is essential. Warn prospective buyers if you have a pet, as many people don't like them, which can be a nuisance. Unnecessary furniture should also be thrown out because you will gain space and your house will seem more spacious. The house must be spotlessly clean inside and out so that the potential buyer feels comfortable and can imagine your place as his family's home.
Renovations probably won't increase the price of your home.
Renovating your home before selling it can be a good idea, but you have to remember that it won't automatically mean a higher price for your property. An additional investment of money, lost time, material prices, and lack of labor are just some reasons you may fail to renovate your home. The money you have invested will usually not be returned through the sale of the property, and the time you have lost is irreversible.
If you want to sell real estate, consult with our licensed agents, who, thanks to many years of experience, know how much real estate is worth and what needs to be done to satisfy both the future buyer and the seller. Selling a house is a stressful job, which is why it is essential to have an agent so that you can go through the sale with as few problems as possible.
Hire a professional
When you have a problem with your car, you go to the mechanic, and when you have a toothache, you go to the dentist. Why would you sell real estate yourself when there are professionals who do it? The brokerage commission that agencies charge may seem absurd, but what you get in return is usually priceless.
Our real estate agency provides exclusively safe buying and selling of real estate. Owners receive full support from our agents during the buying and selling process, making fraud impossible.
The City Expert agency presents every real estate transparently so that real estate's shortcomings and virtues can be seen. We provide unlimited access to multimedia presentations, professional photos, videos, 360-degree views, and interactive maps. Our agents know how the market works, so they can easily price your home and sell it.
Fill out the form below for more information and leave a stressful job like selling a home to professionals.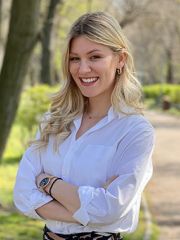 Miljana Veselinovic
PR manager
Carpe diem!